Why Us?
Biggest SK-CZ vendor (since @2015) ako-tazit-kryptomeny.sk Now expanding to whole EU
From this EU shop-version, you can even purchase directly from our wholesalers
Contracted with 29 different wholesalers so always absolutely The lowest possible price of ASIC miners in EU
Up 2 Year Warranty (instead of standard 6 months) to Bitmain miners
Personal support to you with miners choice, profit calculations, recommendations ..
Miner Setup for FREE
Is it Worth to Mine Bitcoin? How Much do you Earn?
Is Bitcoin Mining still Profitable in 2021?
Are you interested in mining Bitcoin, Ethereum or othe cryptocurrencies, but you don´t know whether is mining still worth, if is it profitable and exactly how much do you earn? Therefore we'll show you clear answers to all theese questions.
But firstly, we have to specify them. What does it mean to you, when you ask if mining cryptocurrencies is worth?
a) Wheter mining itself is profitable and worth at all?
b) Wheter the bitcoin mining is more profitable than buying bitcoin in exchange?
Anyway, below, you will find answer to both of them.
PS: If you read this article, you may be also interested in:
What is Mining and How does it work?
a) Is Crypto-Mining Worth at all?
To find out if mining bitcoin is still worthl, you may think that we have just to calculate mining profits. Exactly, how much do you earn and if you even earn something. But in reality, it doesn't end there. 
Mining profit calculation itself is quite simple because consists only of current calculations. But it does not include other external factors and potentional risks, that may heavily affect answer to question, if mining is worth or not. You'll find out all this below.
For profitability calculation, you just have to compare ..:
Mining costs (miner price and electricity costs) with..
Yields (mined coins)
But how to do it?
You can do it manually (step-by-step instructions below)
Or you can just write us and we will send you exact calculation of mining profits, costs, miner prices ..
Bitcoin Mining Profit Calculation
In case of our article, we will demonste profit calculation for popular ASIC miners, which are prefabricated miners manufactured in giant-factories so we can easily find out their market-price. 
On the contrary, GPU Mining RIGs are manufactured usually by local producers or even home-made by investors themselves, so set certain market-price is much more difficult.
For simplicity, we choose most popular coin – Bitcoin and calculate profits for the currently newest and most effective ASIC miner – Antminer S19 Pro (110 TH/s).
Mining Profitability Calculation [instructions]
There are plenty of mining calculators (apps) that show you the current mining profitability. Personally, we mostly use a CryptoCompare. So open this or any other calculator, choose cryptocurrency Bitcoin and let's go.
Firstly, we enter the miner haspower to the first column. Performance can be found in the e-shop. For our ASIC S19 Pro it is 110 TH/s.
Secondly, we have to put also power consumption (second column). It is 3250 W/h in our case.
Thirdly, in the third column we write our electricity price (per kwh). In most EU countries, average tariff is about 0,15-0,18€/ kwh so you can rather take advantage of Hosting with 0,09€/ kwh and save hundreds of euros monthly.
Now do the simple math – we simply multiply each output 4x (because miner lispan is 4-6 years) and we have the result.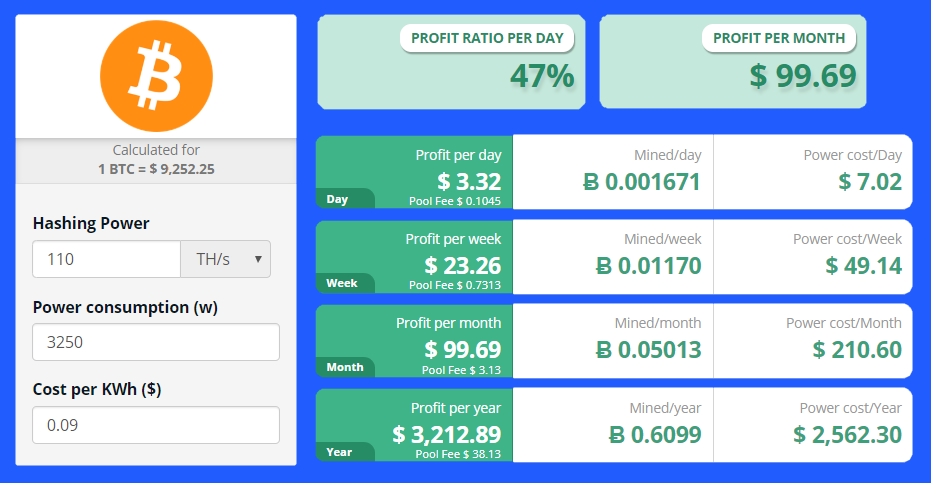 How Much Do You Earn?
From the above calculation of Bitcoin mining (using the S19 Pro machine), we can see:
Our electricity costs are $ 2,562 per year (right column in the picture above). For 4 years it is $10,348.
Our annual profit is $3,212 per year (green bar). It is net profit after deducting electricity costs. In terms of 4 years of mining it is $12,848 net profit.
Miner price: At this time, the price of the S19 Pro Antminer is approximately $4,100.
To sum up: After 4 years of mining, Your Net Profit is: $8,748.
At first glance, it may seems that bitcoin mining is really worthwhile, but as we told, theese are just current profits (except from any potential future risks). Keep reading ..
What is the Discount we get by Bitcoin Mining?
Your total mining costs:
$4,100 for S19 Pro miner
$10,248 for 4 years of mining
Total Cost = $14,348
Our total mined amount can be found in the middle column (0.6099 BTC coins a year)
That is 2.4 Bitcoin in 4 years
Converted to fiat, by current market price $9,252 (at the time of writing), 2,4 Bitcoins equal $22,204
And the result is here.
In case you buy 2,4 Bitcoin on exchange, you will pay about $22,204
The same 2.4 BTCs (worth of $22,204,) you can gain for $14,348 by mining.
Mining gives you Bitcoin with a Discount of up to 35.4%
That´s why mining is still worth for investors even in 2021.
What is the Profitability (ROI)?
Your ROI (return on investment) per 4-year period of mining is:
$12,848 net 4-year profit (electricity cost included) to $4,100 one-time miner purchase, which works 4 years
313,36% ROI
In addition to make mining even more worthy, you may hold the mined coins and sell them after few months at even higher value (cryptocurrencies are quantity limited so in long-term views should only grow). That´s why our recommendation is:
Do Mine and Do Not Sell Coins. You can Earn Twice.
So what do you think? Is it still worth mining Bitcoin or other cryptocurrencies even in 2021? We just show you it is quite profitable. And you can start even today. There are 5 various ways how to start mininig.
Is it really worth? Simple theory, Complicated Reality
A more complex practice always enters a simple theory. The same applies to mining.
Yes, above we exactly calculate profits which is quite huge so it seems that mining is really worth, but the reality is, that is almost impossible to exactly quantify how much you will earn (in reality in 4 years from now).
Where is the Catch?
In the mininig calculations above, we calculated with the current coin prices as well as the current miner and electricity price. But miner lifespan is about 4-6 years and therefore we will see the if the mining is really worth of our investment after this period. Thus it depends on the mentioned variables, which fluctuate in time.
#1 The price of cryptocurrency changes
Cryptocurrencies are limited in quantity and therefore have growing character in the long run, but it may not. You never know.
This factor plays with us than against us
#2 The mining difficulty changes
The difficulty has typically growing character (so we mine less and less coins).
However, the difficulty is related to the price of the cryptocurrency (even with time delay).
Why? Because when crypto price grow up, mining is more profitable, so more investors start mining, thus difficulty grows so we can consider difficulty as an neutral factor for our investment
#3 The price of electricity may also changes
Electricity also could be both, an advantage and a disadvantage. It depends just on your electricity tarrif (or even free energy).
Electricity costs are even more important than price of miner itself.
You pay for miner 3000€, but electricity cost you next 3000-6000€ per miner lifespan.
Average electricity tariff in European household is 0.18€ / kwh which is quite high.
Therefore we offer storage in 2 our mining farms (hosting service), where you can save hunderds of euros monthly.
#4 Next factor that comes into this play:
Whether we sell mined coins at all after 4-6 years of mining
Or we sell them daily / once a month / year..
To Sum Up – Is mininig worth?
As we can see, it is almost impossible to determine the exact amount of total profits from mining, which we will achieve after 4-6 years. But from the above factors we can summarize that more factors are at our side (and we can trully confirm that by 6 years of our mining experiences). To sum up from our point of view and experiences:
Bitcoin, Ethereum or other Cryptocurrency Mininig issStill really Worth and Profitable.
Mining in compare with crypto purchase
In section below, we compare buying cryptocurrencies in exchange with mining. Which pays off more? Numbers never lie. Simple example:
Bitcoin Purchase
If the current market price of Bitcoin is €10,000, your costs of obtaining 1 Bitcoin is €10,000 and some exchange fees.
This is due to the spread (difference between the purchase and sales price of about 1%).
So you pay about € 10,100 and get 1 Bitcoin
Bitcoin Mining
If you want to mine the same Bitcoin, your costs are:
Miner Costs (GPU / ASIC / HDD miner or Cloud).
Electricity costs.
If the total amount of costs are smaller than the value of Bitcoin yoi mined, mining is profitable for you and, thus, mining is undoubtedly worth. And is worth more than buying Bitcoin.
So if you mine Bitcoin worth of €10,000 for €8,000 (example), your instant profit is €2,000 and you have get a cryptocurrency at a discount: 20%.
So anytime you mine cryptocurrency with profit (any), you are obtaining cryptocurrencies at a discount. And the more profitable mining is, the more "discount" you are gaining.
Crypto Buying vs. Crypto Mining
Therefore the clear answer to question:
Is Bitcoin Mining still Worth Today? Yes it is.
Mining Bitcoin, Ethereum, Monero Zcash or any other cryptocurrencies is definitely worth always when mining is profitable.